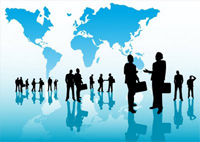 "If you would hit the mark, you must aim a little above it"
Established in the year 2007 and  Incorporated Under Indian companies act 2013, in 2011 Fortune 10 Advance Job Search Private LimitedAdvance Job Search Private Limited is an organization with un-compromised quality, excellent placement services and understanding the requirement of the client is our forte. Our belief in offering excellent quality placement services has won us the trust and first choice of our customers.

We nurture a highly skilled and competent team of professionals and expert technical people who provide 24X7 services to the customer as per their demand. We make sure that our customer gets the best output from our association in the terms of best overall services accompanied with quality satisfaction and right placement for right place.

Our client network is spread across India and we are known as one of the leaders offering placement services to diverse sectors which include Insurance, IT, Pharmaceutical, Engineering, Banking, Finance Securities, Textile, Media, FMCG, Telecom and construction among others.

The corporate world is witnessing the most innovative revolution of all time, this revolution is in terms of economic reforms, professional growth, invasion of varied sectors and there is an overleap of the corporate to reach new horizons.